Exhibition in
Chemnitzer Kunstsammlungen
(municipal art collection)
From October 10th until November 28st 2021 the Chemnitzer Kunstsammlungen will show my works of printmaking art, book art and painting in their location Museum of History of the City of Chemnitz.
A catalogue is already published and it is available in the shop of the museum or can be ordered in book stores
(ISBN 978-3-933248-11-4).


to the location where the exhibition will take place
---
36. Leipziger Grafikbörse
The print on the right is my contribution to the current edition of Leipziger Grafikbörse, an collection of actual works of printmaking artists from Middle Germany with the centerpoint Leipzig. "hortus secretus" (secret gardens) was the theme of this edition.
The next stop on this travelling exhibition will be the Museum of the Printing Arts in Leipzig. The presentation will be shown there from October 10 to November 21, 2021.

Further dates of exhibitions are:
28.11.-30.01.22 Grafikmuseum Bad Steben
06.02.-19.04.22 Kunstwandelhalle Bad Elster
01.05.-05.06.22 Kulturspeicher Dörenthe


learn more about Leipziger Grafikbörse
"Das Treffen am Weiher" (The Meeting at the Pond)2020, etching
---
body & soul – imagine
The Berlin based publisher Hendrik Liersch invited me to take part in the artist magazine body & soul.
I participated in the project with the etching print shown at the right.
The subject of this number of the magazine (Nr 36) is "imagine" (by John Lennon).
The Facebook - Page of body & soul
---
"Tetragebirge"
The Tetragebirge is a continuation of contemporary landscape design. In addition to the now renatured mountains of debris, it is growing continuously and, especially in flat tectonics, is also gladly climbed to look into the country. The artistic paths of Barbara Müller and Jürgen Höritzsch meet on the simulated foundation of the insignificant and sublime. She arranges and extends fragments of her mostly location-based installations. In her dealings with unused and remaining items, she strives for an enlightening "deja-vue".
He uses intaglio printing as an anachronistic reproduction method. "So God created mankind in his own image", it says in a widespread creation myth; this act of copying as an abandonment of uniqueness is expanded in art. Duplication or multiple use of motifs serve as stylistic devices for illuminating his pictorial productions. Reproduction leads to synthesis.

The exhibition were shown from 29. August until 25. September 2020
in the gallery "Oscar" in the "Weltecho" in Chemnitz.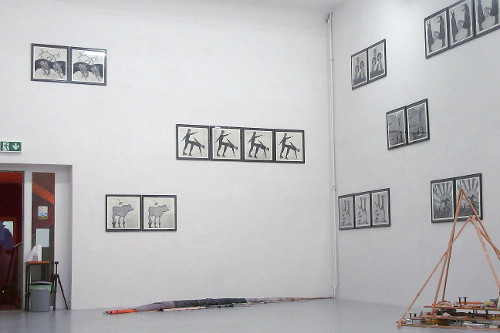 view at the exhibition
---
The five Marie-songs of Kuno Kohn
In summer of this year I have created my fifth original print book. At this time I have occupied with the expressionistic poetrist Alfred Lichtenstein and I have made etching prints to his text "The five Marie-songs of Kuno Kohn".
And like my other four books I have printed and binded it self.


Inner title of the book: The five Mary-songs of Kuno Kohn